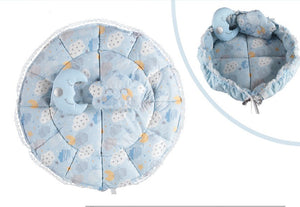 Description :Round Baby Nest Bed with two Pillows
in the baby cot it limits the space, which makes the baby feel safer

It provides safe sleep, the soft sides protect the child, so it can serve as a portable crib, which can be laid, for example on the sofa, or on the carpet.

It is perfect when the baby is sleeping in the parents' bed. The sides protect against moving inside the bedding or crushing by parents. The baby will sleep safely in the nest, while the whole family enjoy the proximity that is so important in this period.

Tip: do not walk around with your baby in the baby nest and place always the nest on a flat surface!
Material : 100% cotton
Dimension : 100X100 CM
NEWBORN size. Age: 0 + (up to about 12 months)
Made in : Turkey