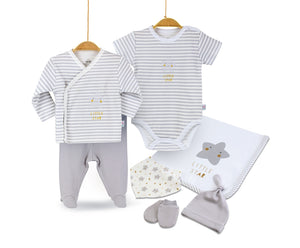 100% cotton organic products are inspected by certified certification bodies based on naturalness, health and hygiene criteria at every stage from raw material to production method.
Organic baby clothes, especially raw materials such as cotton and bamboo are used in an organic way.
These products have a much softer, thicker and thicker texture and have high quality standards with all their features.
Since it does not contain any ingredients like bleach and chemical dyes, its special system provides an advantage for weak and sensitive babies.
These products, which do not have carcinogenic effects and do not sweat with their breathing texture, eliminate allergies in babies.
Being natural, being organic and content-friendly, which can dissolve as waste in nature, is extremely important for a "clean world, livable future".